It's the female version of Die Hard! Well… not really, but it's better than Die Hard 4.0 and A Good Day to Die Hard! 
Oh Hollywood. Giving a woman a gun, but then still forcing her to run around in lingerie does not make her a 'strong character'. When you do it to five women, you're just taking the piss.
Over the years, we've mocked the shockingly bad B-movie action heroines that assorted movie directors have inflicted on us, be it Andy Sidaris's Girls, Guns and G-Strings series (like Hard Ticket To Hawaii) or Cynthia Rothrock's Undefeatable, which gives us a kick-ass heroine, but a fair amount of abusive scenes as well.
This year, we're screening Hard To Die, a film so desperately trying to be a 'female Die Hard' that couldn't even be bothered to work on a more imaginative title. At least Anne Nicole Smith's attempt was called Skyscraper (FYI: It's terrible – just watch the trailer).
Hard to Die is directed by Jim Wynorski, who was also the director of Chopping Mall. It stars Gail Harris, Melissa Moore and many of the same actresses from Wynorski's previous film Sorority House Massacre II: Nighty Nightmare. The film is also known as Tower of Terror, but was essentially made because a bunch of office sets were available and producer Roger Corman wanted a movie. This presented certain challenges for script writer Mark Thomas McGee as why would professional women spent the entire film clad in lingerie?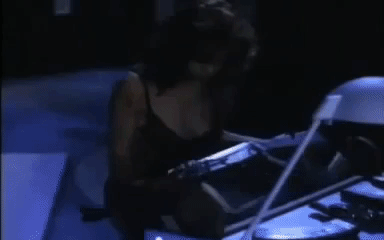 "The change in locale presented Jim and I with a problem—how to get the women out of their clothes and into their underwear. (Try to imagine someone like David Lean or William Wyler wrestling with a dilemma like this.) Not that women would ever run around in their under- wear regardless of the location, but it was a little easier to swallow when they were in a sorority house. This was the genius of discovering a lingerie company on another floor. The sequence where these ladies become so excited when they discover these frilly and sexy undergarments (and just can't wait to try them on) is as ridiculous and infantile as anything you can imagine. But half-naked women is just about all that a film like this has to offer."
Slow clap.
On hand to discuss and introduce this film with be comedian Ellen Waddell and all profits will be going to SARSAS.
When: 8.00pm, Thursday 29th March 2018
Location: Bristol Improv Theatre, 50 St Paul's Rd, Bristol BS8 1LP, UK
Tickets: £5 (all profits going to SARSAS)
Five beautiful women are hired to move boxes in a deserted lingerie factory, where they stumble upon an ancient Soul Box containing a spirit called the Sorority House Killer. They believe the spirit has possessed the building's maintenance man, so they try to destroy the evil spirit with high-powered weapons.
THIS FILM IS RATED '18' 
[youtube https://www.youtube.com/watch?v=AwseLsrAFKs]
THIS EVENT HAS NOW SOLD OUT
INVITE YOUR FRIENDS VIA FACEBOOK
"It's a horror movie, a comedy, a slasher, a demon possession film, and a softcore porn romp all in one. And damn it, it's still a lot of fun." – Cinema Crazed
"The funny thing about it all is that you actually do have a good time watching this picture. It is fairly terrible as far as slashers go, though most slashers tend to be terrible on the whole, and yet it has a certain kind of charm. If you like horror films or buxom beauties, this film has both and will fill any craving you might have. Unless it is for something with quality. For that, you will have to look elsewhere." – The Tell Tale Mind
"It's a dilemma that every director must face: How do I get my female characters into skimpy lingerie?" – House of Self Indulgence