Recently re-discovered by French Bad Film aficionados Nanarland, Karate Vs Mafia is the first Spanish-made martial arts film! It has become a smash-hit with European B-movie fans, so we're bringing it to Bristol for its UK premiere!
Karate Vs. Mafia (or Kárate contre mafia) as it is known in its native tongue) was shot in a few days in Las Palmas, Canary Islands. As with most amazing movies, it is the vision of one man Ramón Saldías and his unshakeable belief that he can make the Spanish islands look like Hong Kong.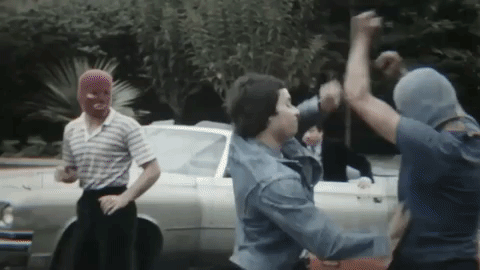 As such, the film uses a Chinese restaurant for half the scenes and liberally spreads its three Asian extras throughout most of the movie. Everyone else is in awkward 'yellow-face'. As for the fights scenes… well, they have to be seen to be believed.
In 2016, Nanarland screened Karate Vs Mafia as part of their 'La Nuit Nanarland'. Other films shown that night included Samurai Cop and The Last Dragon, but it was Karate Vs Mafia that received a standing ovation, especially when director Ramón Saldías  took the stage!
We are proud to show the UK premiere of Karate Vs Mafia in association with Cinecutre, the organizers of CutreCon. For this screening, they have put together English subtitles for the first time as it has never been dubbed into anything other than Spanish.  Fun fact: there is only one 35 mm copy that exists of this film and it is kept at the Cinémathèque de Tenerife.
When: 8.00pm, Thursday 15th February 2018
Location: Bristol Improv Theatre, 50 St Paul's Rd, Bristol BS8 1LP, UK
[youtube https://www.youtube.com/watch?v=6Q3L114mVxw&w=560&h=315]
Tickets: £5 (all profits going to VSO: Lamjung project in Nepal)
While landing in the port of Hong Kong, a young sailor named Lai Chao finds himself involved in the illegal smuggling of diamonds. Wanted by the police and pursued by the local godfather and his hooded henchmen, Lai Chao must fight to prove his innocence!
THIS FILM IS RATED '18' 
"Everybody thought it was insane to make a kung-fu film in the Canary Islands. It turned out everybody was right." – Nanarland