We're kicking off the new year with a little-known Troma movie featuring sex, murder and a performance dance troupe!
Boldly described by its own studio as a cross between "Pulp Fiction and Saturday Night Fever", Dance or Die is one of those films that when you discover it, you begin to question everything about why and how it was made.
Written and directed by Richard W. Munchkin (who actually changed his named to Munchkin, from Jacobs), Dance or Die follows Chandler (Roy Kieffer) who is that typical 80s thriller protagonist – a man who just wants his dance troupe to succeed in the upcoming 'big dance contest'.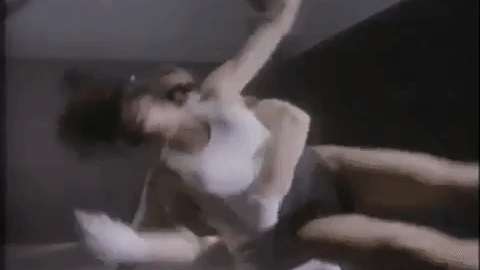 If Chandler was gay, then it might make this film ground-breaking in some way, but he's not and the film goes out of its way to convince the audience of this with some of the most stilted flirting you'll ever see on screen and an excruciatingly awful sex scene. Still, it's intercut with a dance sequence and that makes it hilarious…
Throw in a drug-dealing roommate, an ungodly amount of spandex, a villain called 'Turtle' and lots of obligatory dance sequences and you have one of Troma's most unique films!
TIP: Drink every time the director tries to awkwardly insert some subtext about the  dichotomy of life and death into the film!
When: 8.00pm, Wednesday 24th January 2018
Location: Bristol Improv Theatre, 50 St Paul's Rd, Bristol BS8 1LP, UK
Tickets: £5 (all profits going to BuildTheBit.com)
THIS FILM IS RATED '18' 
THIS EVENT HAS NOW SOLD OUT
Jason is trying to get his dance troupe ready for their big performance while at the same time trying to kick his drug habit for good.  Not exactly helping with the latter problem is Jason's roommate, who deals cocaine from their apartment.  When the roommate gets bumped off for cheating one of his business partners, Jason finds himself being harrassed by dealers who think he's hiding the missing merchandise.
[youtube https://www.youtube.com/watch?v=t3hFp6Cwvno]
"If Lita Ford had a baby with Whitesnake's jeggings, you'd get a song with a searing guitar solo and lyrics like this: "You're reality is a nightmare, this is what it is, dance or die." You'd also get people dancing sensually on a motorcycle and a kitchen scale filled with cocaine. In other words, you'd get Dance Or Die." Bleeding Skull
"If you are lucky enough to find a copy of Dance or Die, and you read the first sentence on the back of the VHS box, you will see this (and I quote): "Jason Chandler wants just two things in life: to stay off drugs, and to choreograph a dance show that rivals Flashdance." If that doesn't make you want to immediately see the film, there is clearly something wrong with you." Comeuppance Reviews
"What did I just watch? 1 part PM movie, 2 parts flash dance, a big dose of drug addiction drama and then all wrapped up in a slimy Troma coating." Letterboxd