Before Halloween, we're screening this 'has to be seen to be believed' horror anthology cult classic!
This infamous cult classic gives you not just one horror film for your £5, but three!
Splicing together three horror films around a conversation between God and Satan, who are naturally sharing a train bound for Hell, this Z-movie is famed for its bad dialogue, continuity errors and a random pop-rock band who appear to be making a music video for no discernible reason.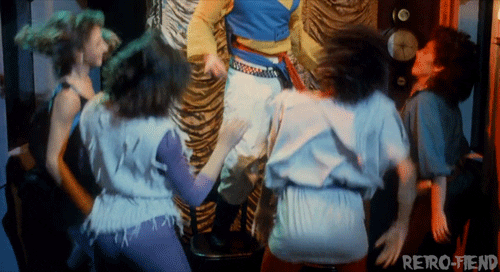 In The Case of Harry Billings, a fiendish killer keeps the horribly mutilated body parts of his countless victims in a diabolical tourture chamber.
In The Case of Greta Connors, a young woman, obsessed with death, takes part in an unspeakable ritual of Russian roulette.
Finally in The Case of Claire Hansen, a young woman and a Holocaust survivor are terrorized by the son of Satan!
PLUS it stars B-movie legend Cameron Mitchell (Deadly Prey, Space Mutiny)!
For horror fans, the three films were constructed from the below obscure flicks!
Cataclysm (1980) (AKA: The Nightmare Never Ends; Satan's Supper) (edited into the Claire Hansen segment)
Death Wish Club (1983) (AKA: The Dark Side of Love; Carnival of Fools; Gretta) (edited into the Greta Connors segment)
Scream Your Head Off (1981; unfinished) (edited into the Harry Billings segment)
When: 8.00pm, Thursday 26th October
Location: Bristol Improv Theatre, 50 St Paul's Rd, Bristol BS8 1LP, UK
Tickets: £5 (all profits going to Byte Night)
THIS FILM IS RATED '18'
THIS EVENT IS NOW SOLD OUT
Aboard a fast moving train bound for Hell, God and Satan decide the fates of three unfortunate mortals.
[youtube https://www.youtube.com/watch?v=f0BjR44XvMk]
"Feels like sitting through a horror film festival with a heavy finger resting on the fast-forward button, zooming to all the grisly goodies before it's on to the next sinister story." Blu-Ray.com
"Within its opening three minutes, this 1985 bizarro horror anthology film segues from a choreographed New Wave dance number—think the FLASHDANCE wardrobe department projectile vomiting across the set of a 1980s LOVERBOY video—to a grandiloquent debate over human freewill between a Count Dracula-ish Satan and a God so ridiculously archetypal he makes George Burns' turn in OH, GOD! look like Linda Blair in THE EXORCIST. And this might very well be the least surreal sequence in the whole damn film." Fangoria
"If you've got an aversion to New Wave music, the terror is already on board in of one of cinema's most bizarre horror anthologies." DVDDrive-In.com