How better to celebrate the festive season than with a film about a killer snowman?
Packed full of hilarious deaths and cheesy special effects, Jack Frost is the perfect bad movie to enjoy with friends this Christmas. It will make you laugh, cheer, groan and wonder how in the hell this got made!
Set the week before Christmas, the film sees serial killer Jack Frost transformed into a killer snowman after his prison transport crashes into a genetics truck. Science!
Panned by critics, but packed full of cringe-worthy one-liners and a gratuitous level of gore and nudity, this horror-comedy is guaranteed to be 84% more fun than your office party!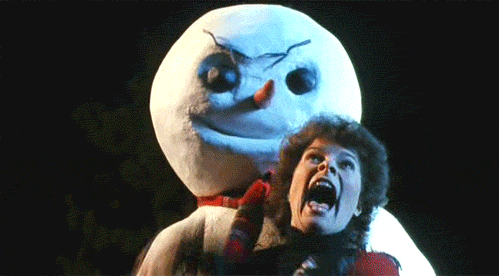 When: 8.00pm, Monday 4th December
Location: Bristol Improv Theatre, 50 St Paul's Rd, Bristol BS8 1LP, UK
Tickets: £5 (all profits going to Bristol Zero Tolerance)
THIS FILM IS RATED '18' (contains scenes of violence and sexual assault by a snowman)
THIS EVENT IS NOW SOLD OUT
After an accident that left murderer Jack Frost dead in genetic material the vengeful killer returns as a murderous snowman to exact his revenge on the man who sent him to be executed.
[youtube https://www.youtube.com/watch?v=oICtgsoSi6c]
"In making it horribly bad, Jack Frost is at the very least entertaining. And is there anything else you could ask for from a B-movie about a serial-killing snowman?" Movie Views
"The only thing melting was my poor mind." Premiere Magazine
"There's a sex scene with a carrot. I believe it is a first." KFOR Channel 4 News