It was our fourth screening back in Jan 2014, but we're bringing it back! Miami Connection! It's a tai-kwon-do rock band battling drug smuggling ninja bikers. Need we say more?
Re-discovered in 2013, Miami Connection has become a cult sensation with its ludicrously bloody fights, bizarre dialogue ("I didn't know you had a father. I thought we are all orphans.") and fist-pumping power anthems. However the story of why it has taken almost 15 years to be fully appreciated is as impressive as the film itself.
Back in 2010, Zack Carlson, one of the programmers at the excellent Alamo Drafthouse in Texas (click here to see how they deal with texters), discovered an original 35mm print of the film on eBay and paid $50 for it, not having ever seen the film before in his life. It was his blind purchase that soon saw Miami Connection undergo a massive re-birth and branded the next 'must-see 'good bad' movie' with sell-out screenings all over the country.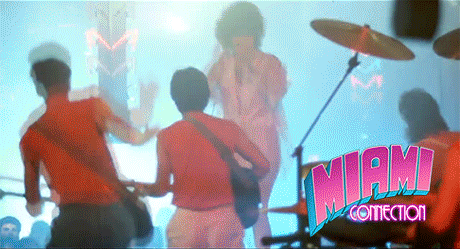 The film was the vision of Grandmaster Y.K Kim who was the writer, co-director, actor and martial arts trainer for the film. He wanted to make a film that showed his world view of peace through martial arts, specifically tai-kwon-do. Teaming up with Korean director Woo-Sang Park, Kim plowed ahead with the film despite knowing precious little about the film business. He even admitted in an interview that he watched a film "maybe once a year". Not only did he fund the budget, that somehow ballooned to $1 million, he got his students to sign on as the main cast members.
His 'script' if it can be called that (rumours abound that Y.K Kim didn't even know a film was meant to have a screenplay) followed the adventures of Dragon Sound, a pop-rock outfit (who all live together and also happen to be black belts in tai-kwon-do) who find themselves caught in the middle of a turf war between bikers, a wronged rival rock band and drug-smuggling ninjas!
The plot is non-sensical and often confusing, the acting is awful, Y.K Kim's grasp of English is limited at best and there is an amusing, yet unintentional, current of homoeroticism going through the entire film, yet it all seems to work.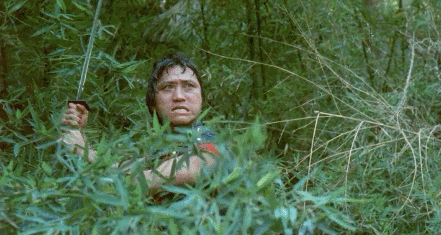 Despite its flaws (and there are many), the film's positive energy (mostly displayed through the tai-kwon do themed power anthems 'Against The Ninja' and 'Friends') can't help but put a smile on your face.
"Most of the movies that were being made in that era were attempting to cash-in," says Zach Carlson, a programmer at the Alamo Drafthouse. "There are uncountable Rambo knock-offs, there's a million Road Warrior knock-offs. And all of them feel pretty crass in their attempt to turn a profit. But Y.K. Kim wasn't aware of what was popular in movies. He just was so dedicated to his martial arts lifestyle. When he made that movie, it was coming completely from his mind and his very unique world and the sincerity of it is really what makes it count. It's so beautifully innocent and it's so pure. That is I think what always makes a movie a, quote unquote, cult classic."
Even Y.K. Kim, who considered the film an embarrassment for decades, and for many months refused to take the Drafthouse Theatre's phone calls because he thought they were pranking him, has been won round by the new wave of support and fandom the film has won.  "Anybody who is looking for drama, romance — I don't think they should watch this movie," he admits. "However, anyone who loves music and exciting action and true meaning of friendship, they're not just gonna love, they will be crazy about Miami Connection."
In short, Miami Connection is "the most glorious amalgamation of everything great about the 80s" and it has to be seen to be believed.
Click here to find out more about the revival of Miami Connection.
When: 8pm, 2nd May 2018
Location: Bristol Improv Theatre, 50 St Paul's Rd, Bristol BS8 1LP, UK
Tickets: £5 (all profits going to Crohn's and Colitis UK)
The year is 1987. Motorcycle ninjas tighten their grip on Florida's narcotics trade, viciously annihilating anyone who dares move in on their turf. Multi-national martial arts rock band Dragon Sounds have had enough, and embark on a roundhouse wreck-wave of crime-crushing justice. When not chasing beach bunnies or performing their hit song "Against the Ninja," Mark (kung-fu master/inspirational speaker Y.K. Kim) and the boys are kicking and chopping at the drug world's smelliest underbelly. It'll take every ounce of their blood and courage, but Dragon Sounds can't stop until they've completely destroyed the dealers, the drunk bikers, the kill-crazy ninjas, the middle-aged thugs, the "stupid cocaine"…and the entire MIAMI CONNECTION!!!
THIS FILM IS RATED '18' 
[youtube https://www.youtube.com/watch?v=VpZu69OB2KM]
THIS EVENT HAS NOW SOLD OUT
INVITE YOUR FRIENDS VIA FACEBOOK
"Miami Connection is one of those rare films where the positive energy exuded by its oh-so-amateur cast and crew starts to rub off on you, despite the fact that almost all of the basic tenets of motion-picture storytelling are non-existent." Eric Melin, Scene-Stealers.com
"Nonsensical dialogue, painful acting, lots of strobe lights, and even more fighting — what more could a person want? Perhaps a beheading? Miami Connection has that, too." Marjorie Baumgarten, Austin Chronicle
"Love it or hate it, it's doubtful you'll ever forget it, and it may just force you to redefine your definition of what constitutes "good" cinema." Rob Humanick, Slant Magazine
"Awesome and proof that God exists… A psychotronic masterpiece!" Mr. Beaks, Ain't It Cool News